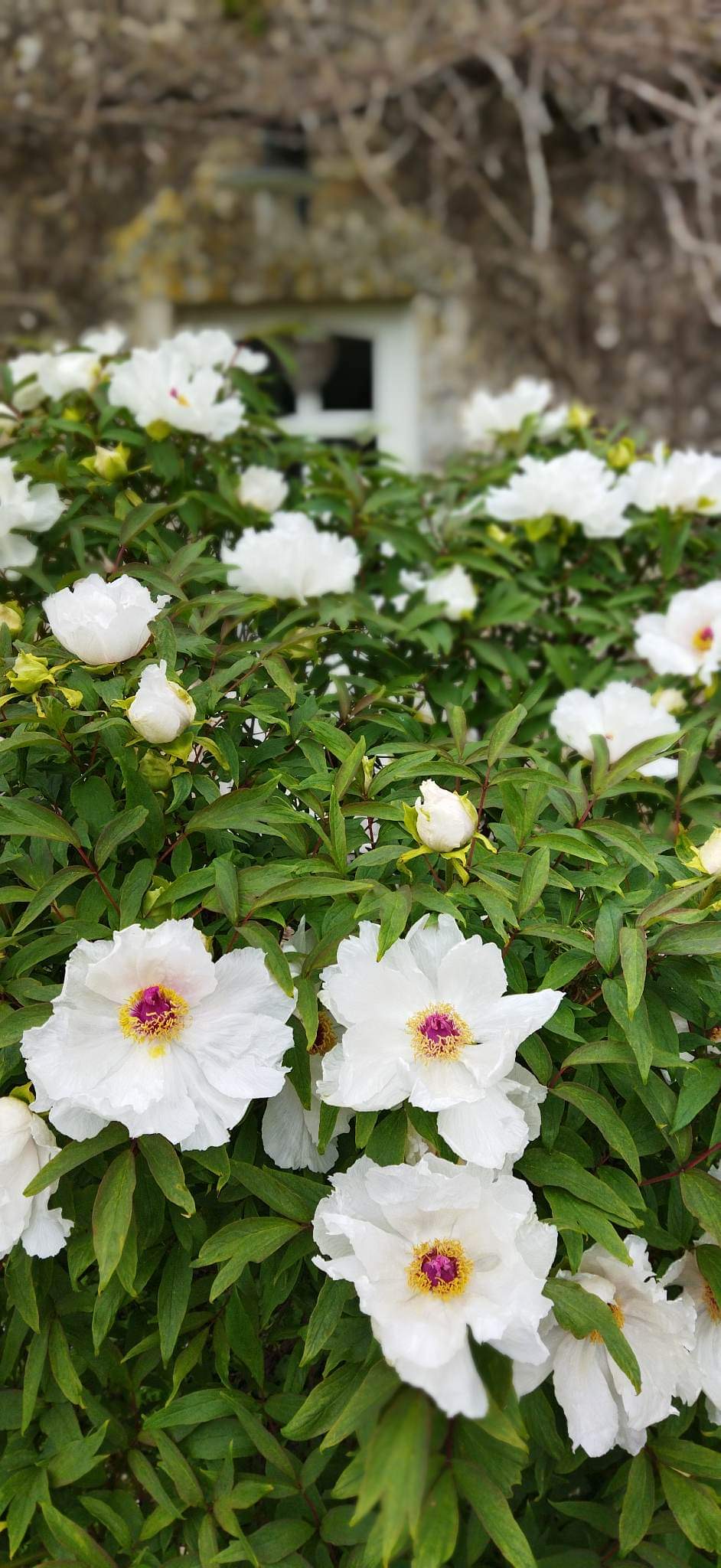 "Profiter au maximum du printemps !"
(In English: Making the most of Springtime!)
We were delighted to welcome back Helen & Robert, our Dutch friends. They had reserved the East Wing Gite having spent the winter in Spain.
Helen is a mentor coach and writer in the administrative world and Robert quite the celebrity in Holland teaching Etiquette in the world of Hospitality having also been a footman to Queen Beatrix of Holland.
It was lovely having them stay and catching up on all their news. We were so glad they had chosen to stay with us again "because it feels like home" said Helen. To hear someone say such a wonderful thing makes every moment worthwhile.
Nick & Leigh were no strangers to Limalonges and a lovely couple. They had lived in nearby Theil some fifteen years ago. They had reserved our Cottage Gite and intended to catch up with old friends. As it was vacant, we decided to offer them the larger East Wing Gite so they could have their friends visit should they so desire.
Krysia and I had been invited by Corinne to celebrate her husband Patou's birthday. Despite feeling unwell, Corinne provided an amazing buffet and a lovely evening which was very much appreciated by us all.
"C'est l'heure!"
The recent spell of warmer dryer and sunnier weather weather reminded us it was time to get our gardens back into shape after what has seemed a long period of Winter. A thought shared by many, no doubt, given rise by the sound of distant lawnmowers spluttering back to life having lay dormant in various outbuildings here in the village.
Krysia and I started the job of carefully cutting back the ivy that had slowly grown across our perimeter wall that runs alongside the road. Ivy brambles and nettles had formed an unwelcome allegiance making it a very slow job in removing without damaging the ancient wall.
We had booked in our good friend Geoff to supply and fit a new pool cover as the old motorised cover needed replacing. There was also a large sapin (evergreen) that needed pollarding between our Cottage Gite and games room and bar. It was a delicate process taking down such a high tree. We had looked at all the options in avoiding having the tree removed. As it was in such an awkward place and next to the road it was the only viable option. Geoff is a qualified tree surgeon and pool installer based locally in Sauze Vaussais. He has always been the best person for the job and we highly recommend him and his team.
Here's a link for those interested.
Et nous sommes déjà en Avril!
We found ourselves back at our local salle des fêtes 'La Cendille' where our local football team Coqs Gaulois de Limalonges were having their annual dinner. It was very well attended and the meal was very enjoyable. The DJ played long into the night. At one point during the evening the DJ played a certain song where everyone, or so it seemed, got up to dance.
The name of the dance is famous here in France, it's called Le Madison. It looks easy but is very complicated to do! It is a variation of the dance from the classic 1964 French film 'Bande à Part' by Jean-Luc Godard.
Why not give it a try! We are still trying….😄😄
I attended the annual general meeting of our local branch of the ANACR. (Ancient combatants and friends of the resistance). It was really nice to see everyone again and discover what this year would bring. Naturally the calendar dates of remembrance are high on the agenda as are educational school trips to various resistance museums throughout our region, something I think is very important for the future.
Local journalist Marie-France asked me what I got out of being a member of the association. Something I hadn't been asked before. Of course, as an Englishman there is the obvious historical interest; especially having discovered that our house was occupied during those dark years.
So then, what do I get out of it?
It is more a question of what I can give back.
Personally, it is a question of respect. Absolute respect for those who gave so much in order that we can continue to enjoy our freedoms and liberties today and hopefully others will be able to do the same tomorrow. After all, we have that choice. Others didn't.
As an aside, it was a great honour to have been quoted and included in several of the local newspapers. Something to treasure.
A knock at the door, it was our neighbour Jocia who had brought us a lovely Pâté de Pâques. A delicious pie with meat and whole boiled eggs inside, given at Easter time here in France.
There is a strong historical tradition with a pate de pâques in Poitou, Also known as Goguenion or Goguenioche. The appearance changed a little during the 1930s when delicatessens in the Vienne began to produce them in large numbers.
There are many stories told about this Easter pâté. One in particular made me smile:
" If you eat a pâté made with eggs laid on Good Friday, you will be protected for a year from snake bites."
Thankfully we didn't discover any hiding in the wall when we were pruning!
Easter Sunday and a ten minute drive by car took us to our first Brocante of the season in the village of Chaunay. Mid morning and the sun was already high sharing its rays of warmth to the streets packed with a lot of people. Stalls were shared by local artisans and locals alike. There was a great atmosphere in the air. It felt like a long time since we had been to a proper Brocante. We met up with friends Laura Pete Eric and Frederique and a platter of Oysters and a few glasses of chilled Rose soaking up the ambience of the French countryside. Parfait!
And here we are. Easter Monday. Krysia and I had just returned from a meeting of a newly created Comité des fêtes for Limalonges. I have been voted in as vice-secretary. A good conduit between French and English in our commune. We are both very happy to help, everyone has lots of ideas. The first which was put into action this morning. An Easter Egg hunt for the children of the commune.
It was very well attended! In no time the children were wandering around the flower beds picking up beautifully decorated eggs and popping them into small baskets they had brought from home. It was a very sweet thing to see. Of course all the children were given some chocolate eggs at the end. Even some of the adults!
There was a real spirit of togetherness in the village this morning.
Spring really is in the air you know…
À la vôtre! 😊😊 🇫🇷🍷🍷❤🇪🇺
Paul & Krysia x
Le Logis De Limalonges
Histoires de Nouvelle-Aquitaine #94
"Profiter au maximum du printemps !
(En anglais : Making the most of Springtime !)
Nous avons été ravis d'accueillir à nouveau Helen et Robert, nos amis hollandais. Ils avaient réservé le gîte de l'aile Est après avoir passé l'hiver en Espagne.
Helen est coach et écrivain dans le monde de l'administration et Robert est une véritable célébrité aux Pays-Bas, où il enseigne l'étiquette dans le monde de l'hôtellerie, il a également été valet de pied de la reine Beatrix de Hollande.
Nous avons été ravis de les accueillir et de prendre de leurs nouvelles. Nous sommes ravis qu'ils aient choisi de séjourner à nouveau chez nous "parce qu'ils s'y sentent comme chez eux", a déclaré Helen. Entendre quelqu'un dire une chose aussi merveilleuse fait que chaque instant en vaut la peine.
Nick et Leigh n'étaient pas étrangers à Limalonges et formaient un couple charmant. Ils avaient vécu dans la ville voisine de Theil il y a une quinzaine d'années. Ils avaient réservé notre gîte et avaient l'intention de retrouver de vieux amis. Comme il était vacant, nous avons décidé de leur offrir le gîte de l'aile est, plus grand, afin qu'ils puissent recevoir la visite de leurs amis s'ils le souhaitaient.
Krysia et moi avions été invitées par Corinne pour fêter l'anniversaire de son mari Patou. Bien que souffrante, Corinne nous a offert un buffet extraordinaire et une soirée très agréable que nous avons tous appréciée.
"C'est l'heure !
La récente période de temps plus chaud, plus sec et plus ensoleillé nous a rappelé qu'il était temps de remettre nos jardins en état après ce qui nous a semblé être une longue période d'hiver. Une pensée partagée par beaucoup, sans doute, suscitée par le bruit des tondeuses à gazon qui reviennent à la vie après avoir dormi dans diverses dépendances ici dans le village.
Krysia et moi avons commencé à couper soigneusement le lierre qui avait lentement poussé sur notre mur d'enceinte qui longe la route. Le lierre, les ronces et les orties avaient formé une allégeance indésirable, ce qui rendait le travail très lent pour enlever le lierre sans endommager l'ancien mur.
Nous avions réservé les services de notre bon ami Geoff pour fournir et installer une nouvelle couverture de piscine car l'ancienne couverture motorisée avait besoin d'être remplacée. Il y avait également un grand sapin (arbre à feuilles persistantes) qui avait besoin d'être taillé en têtard entre notre gîte et la salle de jeux et le bar. L'abattage d'un arbre aussi haut a été un processus délicat. Nous avions examiné toutes les options possibles pour éviter que l'arbre ne soit enlevé. Comme il se trouvait dans un endroit peu commode et près de la route, c'était la seule option viable. Geoff est un chirurgien arboricole qualifié et un installateur de piscines basé localement à Sauze Vaussais. Il a toujours été la meilleure personne pour ce travail et nous le recommandons vivement, ainsi que son équipe.
Voici un lien pour les personnes intéressées.
Et nous sommes déjà en Avril !
Nous nous sommes retrouvés dans notre salle des fêtes locale, La Cendille, où notre équipe de football locale, les Coqs Gaulois de Limalonges, organisait son dîner annuel. Il y avait beaucoup de monde et le repas était très agréable. Le DJ a joué jusqu'à tard dans la nuit. À un moment de la soirée, le DJ a joué une certaine chanson où tout le monde, du moins en apparence, s'est levé pour danser.
Le nom de cette danse est célèbre en France, il s'agit du Madison. Elle a l'air facile, mais elle est très compliquée à réaliser ! Il s'agit d'une variante de la danse du film français classique "Bande à Part" de Jean-Luc Godard, sorti en 1964.
Pourquoi ne pas essayer ? Nous essayons toujours….😄😄😄
J'ai assisté à l'assemblée générale annuelle de notre section locale de l'ANACR. (Anciens combattants et amis de la résistance). C'était vraiment agréable de revoir tout le monde et de découvrir ce que cette année allait nous apporter. Naturellement, les dates du calendrier de commémoration figurent en bonne place à l'ordre du jour, de même que les voyages scolaires éducatifs dans les différents musées de la résistance de notre région, ce qui, à mon avis, est très important pour l'avenir.
La journaliste locale Marie-France m'a demandé ce que je retirais de mon appartenance à l'association. C'est une question que l'on ne m'avait jamais posée auparavant. Bien sûr, en tant qu'Anglais, il y a l'intérêt historique évident, surtout après avoir découvert que notre maison a été occupée pendant ces années sombres.
Mais alors, qu'est-ce que j'en retire ?
La question est plutôt de savoir ce que je peux donner en retour.
Personnellement, c'est une question de respect. Un respect absolu pour ceux qui ont tant donné afin que nous puissions continuer à jouir de nos libertés aujourd'hui et, espérons-le, que d'autres puissent en faire autant demain. Après tout, nous avons le choix. D'autres ne l'ont pas fait.
Soit dit en passant, c'est un grand honneur d'avoir été cité et inclus dans plusieurs journaux locaux. C'est une chose à conserver précieusement.
On frappe à la porte, c'est notre voisine Jocia qui nous a apporté un délicieux Pâté de Pâques. Il s'agit d'un délicieux pâté en croûte contenant de la viande et des œufs durs entiers, que l'on offre à Pâques en France.
Il existe une forte tradition historique de pâté de pâques dans le Poitou, également connu sous le nom de Goguenion ou Goguenioche. L'aspect a quelque peu changé dans les années 1930, lorsque les épiceries fines de la Vienne ont commencé à en produire en grand nombre.
On raconte beaucoup d'histoires sur ce pâté de Pâques. L'une d'entre elles m'a fait sourire :
" Si vous mangez un pâté fait avec des œufs pondus le vendredi saint, vous serez protégé pendant un an des morsures de serpents".
Heureusement, nous n'avons pas découvert de serpents cachés dans le mur lors de l'élagage !
Le dimanche de Pâques, à dix minutes en voiture, nous nous sommes rendus à notre première brocante de la saison dans le village de Chaunay. En milieu de matinée, le soleil était déjà haut et partageait ses rayons de chaleur avec les rues bondées de monde. Les stands étaient occupés par des artisans locaux et des habitants de la région. Il y avait une bonne ambiance dans l'air. Cela faisait longtemps que nous n'étions pas allés à une véritable brocante. Nous avons retrouvé nos amis Laura Pete Eric et Frédérique et nous avons dégusté un plateau d'huîtres et quelques verres de rosé frais en profitant de l'ambiance de la campagne française. Parfait !
Et nous y voilà. Lundi de Pâques. Krysia et moi revenons d'une réunion du nouveau Comité des fêtes de Limalonges. J'ai été élue vice-secrétaire. Un bon intermédiaire entre le français et l'anglais dans notre commune. Nous sommes tous les deux très heureux d'aider, tout le monde a beaucoup d'idées. La première a été mise en œuvre ce matin. Une chasse aux œufs de Pâques pour les enfants de la commune.
Il y a eu beaucoup de monde ! En un rien de temps, les enfants se sont promenés dans les parterres de fleurs pour ramasser des œufs joliment décorés et les glisser dans de petits paniers qu'ils avaient apportés de chez eux. C'était très beau à voir. Bien entendu, tous les enfants ont reçu des œufs en chocolat à la fin de la cérémonie. Même certains adultes !
Il régnait un véritable esprit de solidarité dans le village ce matin.
Le printemps est vraiment dans l'air…
À la vôtre ! 😊😊 🇫🇷🍷🍷❤🇪🇺
Paul & Krysia x
Le Logis De Limalonges